Well, I certainly didn't mean to disappear from this blog for over a month. Sorry about that, I started a new job and rather got carried away in all the excitement, heh.
--
Last week, rather unexpectedly, I read about
Richey James Edwards
being officially declared dead after having been missing for nearly fourteen years. I should say the
timing
was unexpected, because ever since becoming a fan of the
Manic Street Preachers
in 1999, I didn't think there was much of a chance of Richey still being alive.
While it wasn't surprising, it did still make me feel rather uncomfortable. Whenever I think about the Manics, I think about that terrible quote from Nick Hornby's 'High Fidelity': "what came first, the music or the misery?". Let's not dwell on the misery-bit, there, but it's a strange thing to think about my personality would have been had I not become a fan of the Manics. They influenced me very much when I was a 12-year-old, and I'm happy that they did because without them, I wouldn't have known about
Abraham Zapruder
,
S.E. Hinton
and
Harold Pinter
when I did.
Coming from Wales, the Manic Street Preachers also introduced me to a whole range of Welsh literary heroes I'd never heard about, one of them being
Dylan Thomas
, most famous for writing the play for voices, 'Under Milk Wood'.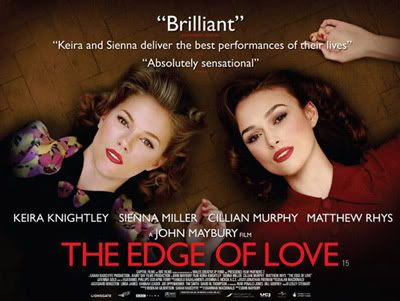 It was strange to hear about Richey James when I did, because the weekend before I had just seen
The Edge of Love
, a Dylan Thomas-
biopic
of sorts that focuses on his life during and shortly after the Second World War, when he lived with his wife, his childhood sweetheart and her soldier husband in Wales. Starring Matthew Rhys as Thomas, Sienna Miller and Keira Knightley fight for his affections as Caitlin MacNamara and Vera Phillips, Thomas' real-life wife and ex-lover.
It's very tempting to compare
The Edge of Love
to
Atonement
, since both are very British films, set in the 1940s and star Keira Knightley, but that would be an unfair comparison. While I did very much enjoy
Atonement
,
The Edge of Love
is more human and it's about the relationship between four people instead of
Atonement
's good versus evil; sensationalism aside, the viewer gets more emotionally involved with
The Edge of Love
. This film is about flawed people instead of angelic Robbie Turner, and it stays with you because of the great performances and beautiful locations.
Keira Knightley already won me over with her performance in
Bend It Like Beckham
and
Atonement
, but as the opening credit rolled, I felt unsure about Sienna Miller. To be honest, I always considered Sienna Miller to be one of those actresses who become famous by pretty much playing themselves in a few films that are released in the same year, launching them to flavour-of-the-month-fame. Steve Buscemi's take on Theo van Gogh's
Interview
already garnered Sienna Miller good reviews, but since I disliked the original, I found the film unbearable watch.
Not to give away too much, Miller gives an amazing performance, out-shining everyone else on the screen. Those last moments between Catty and Vera are just heart-wrenching; a great moment in 2008 cinema.