As I was walking home yesterday, I came across a poster for
Pluk de Nacht
, a film festival in Amsterdam that shows previously unreleased films. I was walking by and not paying much attention, but still the poster caught my eye and I immediately thought of Saul Bass.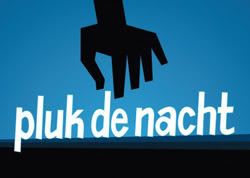 Saul Bass was a graphic designer, most famous for his work on film posters for Alfred Hitchcock, Stanley Kubrick and Martin Scorsese; his most iconic poster might just be the one he made for Otto Preminger's
The Man with the Golden Arm
: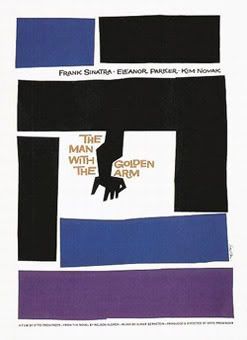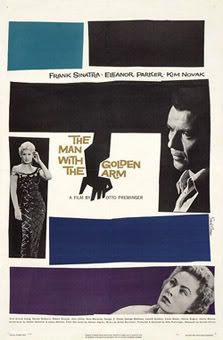 Bass was also very well known for his amazing animated title sequences for several films; Hitchcock's
Vertigo
and
Psycho
of course, but also 1991's
GoodFellas
and even
The Age of Innocence
- how's that for diversity? My favourite is the title sequence he made for
North by Northwest
, it's just genius:
Before he started working on films, Bass was already a sought-after graphic designer. In his lifetime he created corporate identities and logos for companies such as Continental Airlines, the Girl Scouts of the USA (!), Wesson Oil and Geffen Records.
Wikipedia
reports that at one point, his AT&T Bell System logo had a 93 percent recognition rate in the United States.
Saul Bass is a legend in graphic design, you can find an interesting biography with a timeline of his major works on the
Design Museum's website
.
More interesting websites and blogs on Saul Bass:
·
saulbass.tv
: a very stylish website dedicated to saul, focusing mostly on his poster designs.
·
cinemacom.com/saul-bass
: a collection of his film posters.
· a great post on Design*Sponge about Saul Bass' children's book,
'Henri's Walk To Paris'
.
Plus, I highly recommend these YouTube-videos:
· a little gem that popped up on YouTube a few months ago:
Saul Bass vs Star Wars
· opening sequence from
Anatomy of a Murder
· opening sequence from
The Man With the Golden Arm
· opening sequence from
Vertigo