I realise this blog is soon becoming a blog of celebrity death, but I was sad to hear
Bill Meléndez
, the man responsible for the many 'Peanuts' and Charlie Brown TV animations, had died.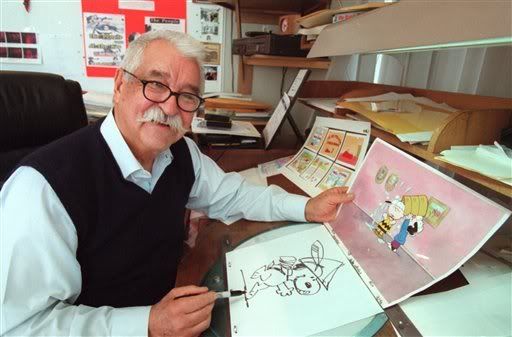 Growing up I was always a fan of Charles M. Schulz's cartoons, and I would cut the comic strips out of our newspaper and stick them in my notebooks. Linus and Lucy were (and still are) my favourite characters, and I love the way they're portrayed in the animation series. Apparently José "Bill" Meléndez was the only person Schulz would allow to work on the animation of his comic strips. He made five feature length Charlie Brown films (the most famous of which is the
A Charlie Brown Christmas
), and 75 half-hour cartoons.
Despite being best remembered for his work on bringing the 'Peanuts'-characters to the screen, Meléndez also worked on Walt Disney's
Bambi
,
Fantasia
and
Dumbo
, as well as several Bugs Bunny and 'Looney Tunes'-cartoons.
Here's one of my favourite scenes from
A Boy Named Charlie Brown
, the first feature length 'Peanuts'-film; every animation feature should contain one mind-bogglingly psychedelic scene (think of the elephant dance in
Dumbo
) -- here Schroeder plays Beethoven's 'Sonata Pathetique' (it starts about 45 seconds in):
Also, something I found really surprising and fun to find out: Meléndez was also the producer for
Babar Comes to America
, which is voiced by the late, great Peter Ustinov (who is unforgettable as King John in Disney's
Robin Hood
). Babar was my one great love as a little girl and I will be the first to admit I'm a bit of a Babar-purist (Jean de Brunhoff's books are the only real Babar-books in my mind, Laurent's were rubbish), and I was horrified to see the 1980s animation series as a semi-grown up a couple of years ago but, still, Laurent-Babar is better than no Babar at all!
Mr. Meléndez, I salute you.