Since I'm not really the person for summer blockbusters, here's four films I've seen recently that I can't recommend enough.
If....
(1968, Lindsay Anderson)
Starring:
Malcolm McDowell, David Wood, Richard Warwick (
IMDb // Wiki
)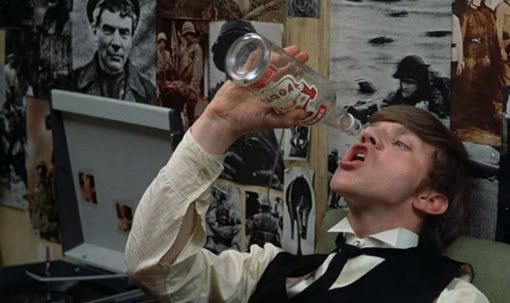 In an inditement of the British Boys School, we follow Mick and his friends through a series of indignities and occasionally abuse as any fond feelings toward these schools are destroyed. When Mick and his friends rebel, violently, the catch phrase, "which side would you be on" becomes quite stark. -- IMDb
I'd been waiting to see this ever since I could the documentary on Social Realism in British film during the BBC's
Summer of British Film
last year, and I was incredibly impressed by it. Incredible performances and it had an unexpected sensitivity to it. Pay close attention to the collages on the walls, not only do they tell you a lot of about the characters (a great detail), they were made by assistant-to-the-director
Stephen Frears
.
The Hours and Times
(1991, Christopher Munch)
Starring:
David Angus, Ian Hart (
IMDb // Wiki
)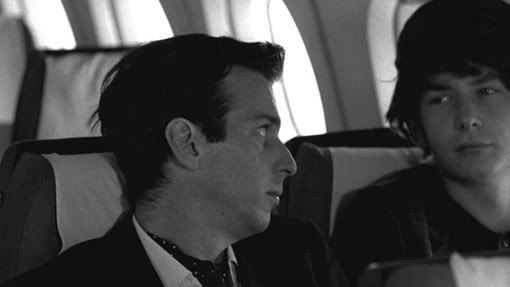 Starring David Angus and Ian Hart, The Hours and Times is a fictionalized account of what might have happened during a real holiday taken by John Lennon and The Beatles' manager Brian Epstein in 1963. The film follows Lennon and Epstein as they take a holiday together in Barcelona and explores their intense, possibly sexual, relationship. -- Wikipedia
Among Beatles fans, that trip to Barcelona has been the subject of speculation for many years. John Lennon's first son had just been born, and he chose to go to Spain with Epstein for four days; Epstein's homosexuality was an open secret during his life, and several books have claimed Lennon was bisexual (see: books by
Pauline Sutcliffe
and
Pete Shotton
), with Lennon saying this about the relationship in 1980: "It was never consummated, but we had a pretty intense relationship."
I have to admit, I'm a sucker for these "historical fantasies", especially when they're music-related.
The Hours and Times
gives one version of what might have happened on that Spanish holiday, without it becoming sordid sensationalism. For those not interested in John Lennon or the Beatles, it's still an interesting film to see as it's not strictly about Lennon and Epstein (the actors don't look enough alike!) -- the film is more an interesting story of what might have happened between two men who had similar histories to Lennon and Epstein. No matter how you look at it, it's a very interesting character study.
This Is England
(2006, Shane Meadows)
Starring:
Thomas Turgoose, Stephen Graham, Jo Hartley (
IMDb // Wiki
)
Roland Rat, Margaret Thatcher; Rubik's Cubes, the Royal Wedding; aerobics, skinheads... It's 1983, and the schools are breaking up for summer. Shaun is 12 and a bit of a loner, growing up with his mum in a grim coastal town, his dad killed fighting in the Falklands War. On his way home from school where he's been tormented all day for wearing flares, he runs into a group of skinheads, who against expectations turn out to be friendly and take him under their wing. Soon Shaun discovers parties, girls and snappy dressing, and finds some role models in Woody, Milky and the rest of the gang. But when an older, overtly racist skinhead returns home from prison, the easy camaraderie of the group is broken, and Shaun is drawn into much more uncomfortable territory. Based largely on his own experience as a youngster, this is Shane Meadows' most mature and fully realised film. Handling the complexities of masculinity, violence and race with sensitivity and a lightness of touch, it's hard to imagine a film that would better capture the mood of the time, or that could have any greater an understanding of the allure of being part of a gang. -- IMDb
I hope that in 20 years time, people will look back on
This Is England
as a modern classic, and that in 40 years' time, it will be regarded in the same way as
If....
. A very subtle and delicate film, 11-year-old Thomas Turgoose is an absolute knock-out as Shaun. The tension in some scenes is unbearable, but at the same time the film is incredibly funny. You can tell Meadows drew from his own experience, because the care with which the subject matter is handled is just amazing, and the film just feels very real, very three-dimensional. Words don't do this film justice, or at least mine don't. Watch this,
please
!
Les Chansons d'Amour
(2007, Christophe Honoré)
Starring:
Louis Garrel, Ludivine Sagnier, Chiara Mastroianni (
IMDb // Wiki
)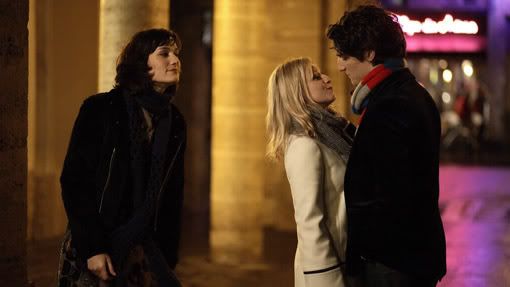 Ismael lives with Julie. Alice, who works with Ismael, shares their bed and Alice's affections. When tragedy strikes, Erwann is the only one who can bring a shattered Ismael back to life. With rain-slicked streets, coffee and cigarettes, references to a dozen French classics, a haunting score and the best balcony scene since 'Romeo and Juliet', this low-budget charmer, which has become a cult favorite in France with the under-25 set, is a Les Parapluies de Cherbourg for the 21st Century. -- IMDb/Wiki
Best balcony-scene since 'Rome and Juliet'? That might be pushing it, but all-in-all,
Les Chansons D'Amour
is a memorable film. It shares a lot of qualities with
Les Parapluies de Cherbourg
, but it's not a rip-off in the slightest, I'd like to think of it as a mix between
Les Parapluies de Cherbourg
(and a bit of
Les Demoiselles de Rochefort
) and
François Ozon
's films. An interesting take on love, romance and relationships, with beautiful shots of Paris and great performances by all the actors involved. Also, the music is just wonderful, which is not unimportant for a musical..